Derek Taylor Kent is an author, screenwriter, performer and director based in Los Angeles. Best known for his children's books, his best-selling, award-winning books are treasured in hundreds of thousands of homes across the world. He and his wife, author Sheri Fink (pictured to the left), are the founders of Whimsical World, an empowering children's brand that publishes books and produces whimsical merchandise, inspiring entertainment, and magical experiences for children of all ages.
His newest middle-grade novel (ages 7-12), PRINCIPAL MIKEY, was released May 2018 and became a #1 best-seller on Amazon. See cover to the left! It tells the story of a 10-year-old kid who becomes principal of his school, and things don't go anything close to expected.
His newest picture book, THE GROSSEST PICTURE BOOK EVER, is set to be released on October 8, 2019! It promises to be his most hilarious book yet! In fact, there's a contest at the end of the book to see if you can read the book aloud without laughing out loud!
Derek is known for his series of bilingual English-Spanish picture books that have become some of the most popular in the world. HIs newest picture book, EL PERRO CON SOMBRERO MEETS LOS GATOS CON GELATOS comes out April 30, 2019 and is the sequel to his #1 best-selling EL PERRO CON SOMBRERO (published by Holt/Macmillan). Both are based on his real dog, Zander, whose joy for life and constant hilarity are a constant inspiration. DOGGY CLAUS/PERRO NOEL was released November 2018 and tells the tale of Jingle (Santa's dog) who decides to take off on Santa's sleigh to deliver presents to all the dogs in the world, only to discover there's something dogs want even more than presents on Christmas. The books teach Spanish and/or English to young readers and are staples in bilingual homes and dual immersion schools.
His first novel for an adult audience, KUBRICK'S GAME, was released through Evolved Publishing and quickly became an international bestseller and was one of the best-reviewed books of the year. It won the Reader's Favorite Award for Best Fiction Audiobook of 2017 (narrated by Jonathan Frakes and Yvette Nicole Brown) and won Best Film/TV book of the year from the National Independent Book Awards.
His award-winning book series SCARY SCHOOL (written under pen-name Derek the Ghost) was published by HarperCollins and is one of the most popular book series for middle-readers ages 7 to 12. There are currently four books in this beloved series and remains a best-selling title.
COUNTING SEA LIFE WITH THE LITTLE SEAHORSE was co-written with his wife, #1 best-selling author,Sheri Fink, and released in September 2017. It's a hilarious underwater adventure that teaches kids ages 0-5 about the incredible variety of life in the ocean by while searching for hidden numbers.
Other books include the award-winning educational picture book SIMON AND THE SOLAR SYSTEM and the magical adventure RUDY AND THE BEAST: MY HOMEWORK ATE MY DOG!, both available now.
Derek's screenplays have been optioned by Liberty Films (Warcraft, Source Code), The Donner Company (Goonies, Superman), and Radar Pictures (The Arrival, Jumanji). He also specializes in writing narrative scripts for Virtual Reality content. His VR sci-fi script EXIT TO REALITY won best screenplay at the Los Angeles Independent Film Festival and was nominated for best screenplay at Hollyshorts Films Festival, Red Flight Film Festival, and Reel Writers Screenplay Competition.

Explore this site to see more of Derek's exciting projects in the works, including feature films, musicals and web series. Derek's talents also extend to music, songwriting and production, which you can view and listen to in the Media section. Derek loves doing school visits and other book events. Please contact him to schedule his next appearance.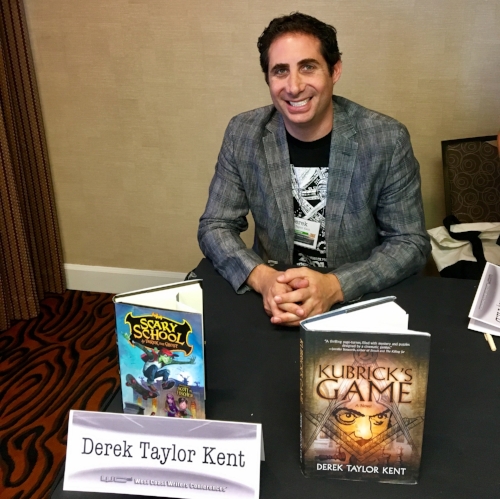 Find me at one of my frequent book signings by going to Events.
Book a show and/or appearance by writing to Derek@DerekTaylorKent.com